What is Serious Request?
Serious Request is an annual fundraising event held by 3FM with the purpose of supporting Red Cross initiatives. This year the event is situated in Leeuwarden and lasts from the 18th of December until the 24th of December. During this event, three 3FM radio hosts lock themselves up in a glass house while broadcasting radio and living off of nutritious juices. This year, 3FM attempts to reduce child mortality rate caused by poor treatment of diarrhea. People can support the fundraising event by physically donating money, on location, in Leeuwarden at the glass house's mailbox. Additionally, people can send a donation towards Giro 661 addressed to 'Het Nederlands Rode Kruis, Den Haag'.
Reduce child mortality rate, treat diarrhea
Each year, over 800.000 children die because of diarrhea. That is over 70 full classrooms a day. Young children, especially those up to 5 years old, are vulnerable because their immune system is still in development. Diarrhea reduces the protection provided by the immune system. Children with diarrhea that are left untreated will die due to dehydration. Diarrhea can be the result of drinking contaminated water, lack of proper sanitation and lack of education on the consequences of bad hygiene on young children. Parents can lack the knowledge to prevent diarhhea or help their child when it suffers from diarrhea. With practical knowledge and guidance we can fight this quiet catastrophe. We believe that these are reasons enough for 3FM's Serious Request to ask your attention for these vulnerable children.
1 Week, 1 Game
SassyBot Studio supports Serious Request by doing what we do best, making games. For the duration of Serious Request (18-24 December), members of SassyBot will devote their time to creating a game. When Serious Request starts we will share the game concept that we will develop during the event. People can support Serious Request by donating, using the donating options below. A donation automatically counts as a pre-order which means you will gain access to the game we make during Serious Request. During the event we will livestream the development process so you can see everything we do as we create the game.
Follow the livestream via Twitch in the window on the right and stay in touch with us through Twitter and updates on our blog.

Donate
Our friends over at Humble Bundle provided us with the ability to accept international donations via their store. Check out the great work they do for game distribution.
Dutch donations can be sent through the official Serious Request page by clicking the image below.


SassyBot Studio
SassyBot Studio is a group of hard working, fun loving, individuals that share a single passion. We play, create, discuss, and develop games. The team's roots lie in Breda as all of us are, in one way or another, associated to NHTV's International Game Architecture & Design bachelor program. With degrees under our belt and spirits raised high, our next dream awaits. This dream is to grow SassyBot Studio into a fun and healthy game development and consultancy studio that provides people with information about the craft and content to enjoy.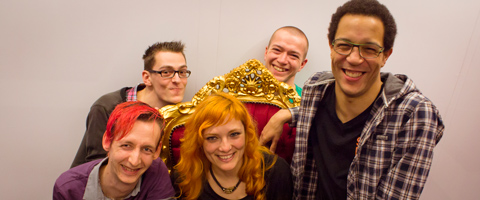 Become a Sponsor
SassyBot Studio is looking for additional sponsers. Substantial financial donations will be acknowledged as sponsors. We also embrace donations of a different nature such as volunteer work, equipment or anything else you think might contribute. SassyBot and Serious Request can use all the help we can get to help those that need it. Please contact us by sending an email to seriousrequest@sassybot.com and tell us how you want to help.